BUSINESS JUGGLING SPEECH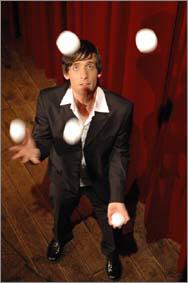 This artist explains special facts by using the art of juggling.
Please tell us your theme, no matter if it is scientific, specific to your product
or any in-house problem.

The artist takes the content and performs it by an individual with metaphoric
juggling tricks.

He can juggle with things as wll that fit to your products or use colours -
almost everything can be represented in an exciting way.

Just surprise us, what the artist should communicate to your guests.









FACTS
ARTISTS

1
DURATION

flexible

AREA
min. 3x3m

HEIGHT
min. 3m
SOUND by CD
PA/HEADSET
LIGHT
required